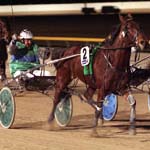 mailing list
Want to find out all the latest news from Harness Racing Training Centre?

Just enter your name and email address below and we will add you to our mailing list and discussion list.
Monday, June 23rd 2003
The Harness Racing Training Centre is proud to launch its new internet look and feel. The Centre has been working closely with Ezylearn Education System to improve the quality of the online training provision offered by the Centre. Apart from the much improved look there is significant programming improvements in the Learning Management System which will enhance the student experience and the ease of operation by tutors.
The FUTURE of learning is here!
login
updates
No Updates Yet