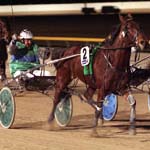 mailing list
Want to find out all the latest news from Harness Racing Training Centre?

Just enter your name and email address below and we will add you to our mailing list and discussion list.
Monday, January 12nd 2009

The Harness Racing Training Centre is gearing up for an exciting 2009. New horses in the stable, a new group of trainees and a new look for the dynamic Victorian harness racing scene.
Now is the time to get involved with harness racing. Live your dreams with an enrolment at HRTC Bendigo.
The FUTURE of learning is here!
login
updates
No Updates Yet